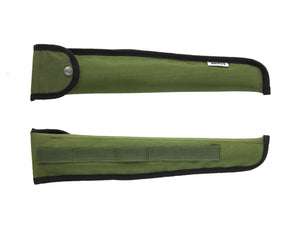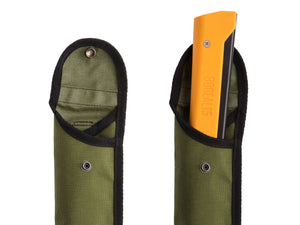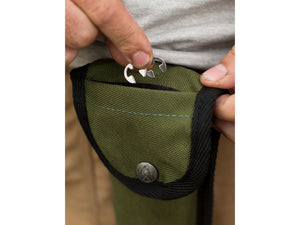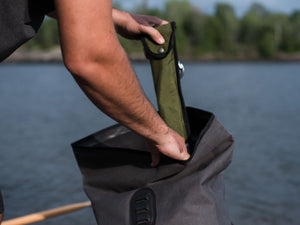 Product image 1

Product image 2

Product image 3

Product image 4

*FOR THE BOREAL15*
Lightweight, durable and water resistant cordura sheath
Dual pockets for saw & extra blades
Extra pocket on flap for spare hardware
Reinforced webbing strap system on back

0.14lbs / 2oz

Made in Canada
Blade Guide
All Purpose / Green Wood
This medium toothed blade has a double pointed raker between sets of cutting teeth, which clears the cutting notch of wood chips and fiber. This popular style cuts green wood but is right at home cutting dry hard and soft woods. Rust protective coating and hardened points make this versatile blade perfect for most uses.
Aggressive  Sidney Rancher II
The Sidney Rancher II is custom designed and  favoured  by those seeking an extremely aggressive and long lasting blade.  Long sharp edges in a unique pattern of large teeth provide aggressive cutting.   This heavy gauge blade will plow through
wood.  Locally made by craftsmen the Sidney Rancher II features hardened points and push/ pull cutting
action.
Hunters Blade
The Hunter's Blade is ideal for cutting through bone or meats.  The serrated high quality stainless steel blade stands up to the elements and is easy to clean.  This blade is the perfect choice for field dressing of game.


More Details
BOREAL saws are revolutionary folding bow saws that effortlessly unfolds in seconds for easy, high performance cuts.  The blade's length is optimally sized for powerful sawing strokes, and yet short enough for packability.  And the 3 hinged trapezium-shaped frame allows large diameter cuts.  The blade safely folds into the frame when not in use, protecting you and your gear.
Features
Opens in seconds with one smooth motion - because it's one connected assembly - so there's no fumbling with loose parts
Blade tensioning is automatic, reproducible and set to provide optimal sawing performance every time
No need to touch the saw blade during opening and closing. Saw teeth are completely concealed protecting you and your gear.
High clearance geometry
Simple and fast blade replacement - no special tools required
Grip handle angle is designed to optimize stroke power vs saw balance
Grip handle is ergonomically designed for maximum comfort
Grip handle material made of durable and weather resistant nylon
Framing made of high strength extruded and anodized aluminum (no twisting) with all stainless steel hardware
Light weight
Shipping Details
Handling time
Please allow 1 business day for handling prior to shipping. Business days are Monday through Friday, excluding holidays.
Free North American Shipping
All North American orders over $60 receive free standard shipping (2-3 days)
*PO boxes exempt from free shipping.
North American Delivery Time
Delivery time depends on the speed of delivery you select when you place an order.  Standard shipping takes 2-5 days to arrive and expedited shipping takes 1-3 days.
International Delivery Time
Orders from outside of North America use UPS expedited shipping ($20-$29) depending on location and take 3-6 days to arrive.  There is also the option to choose DHL express (2-3 day) for $50.
Import Taxes & Duties
There are no additional import fees for orders within North America.
Orders shipped to destinations outside of the United States or Canada may be subject to import taxes and/or duties. As the recipient, you are the importer and must comply with all applicable laws and regulations. Exact import taxes and duties vary, depending on the destination country. Agawa Canyon charges only the merchandise and shipping charges to your credit card. Import taxes and duties are collected by the international carrier upon delivery.
Tracking
You will receive a tracking number via email the morning after you place your order. However it may take a few hours longer for the package to be checked into the carriers tracking system.
Order Status
Check your e-mail. You will receive e-mails keeping you up-to-date about the status of your order.
Contact us. If you still have questions about your order, please contact us via e-mail (info@agawacanyoninc.com) or call our Customer Service Department at 1 833 224 2922.
How To


 PIVOT PLACEMENT FOR TENSIONING
 CHANGING OF BLADES
1. Use any sturdy flat edge to remove c-clip
2. Slide the grooved pin out and remove the blade
3. Place new blade inside the frame and slide the grooved pin back through the outside hole
4. Use flat edge to snap the c-clip back over the grooved pin
5. Follow same instructions for the other end of the blade
USE & SAFETY
BOREAL saws have been designed with safety as a high priority.  In the closed position, blade points are concealed within the saw frame, making packing and handling easy.  Also, the one-piece design allows for folding, unfolding and tensioning while only holding the saw handle and plastic pivot arm  -  no need to contact the blade.  However, when the BOREAL is open, the exposed blade points are extremely sharp and the saw must be handled with care.